INFRARED STEAM SAUNA
A NEW EXPERIENCE
Plan your Sauna.
From the already very comfortable standard equipment to the luxury design – the CLUB individual sauna concept covers every wish. In addition to numerous different floor plans with front or corner entrances, you can choose between different wood variants and glass fronts, which convey more transparency and a generous feeling of space.
Decorative wooden blinds are optionally available, which give the sauna user a little more intimacy. The comfortable CLUB interior fittings made of aspen are also manufactured with precise craftsmanship and are equipped with two or three loungers, depending on the size of the sauna. The space-saving Finnish heater CUP D with 20 kg sauna stones ensures a mild sauna climate. Our configurator helps you to consider the most important parameters so that your new sauna is built according to your ideas.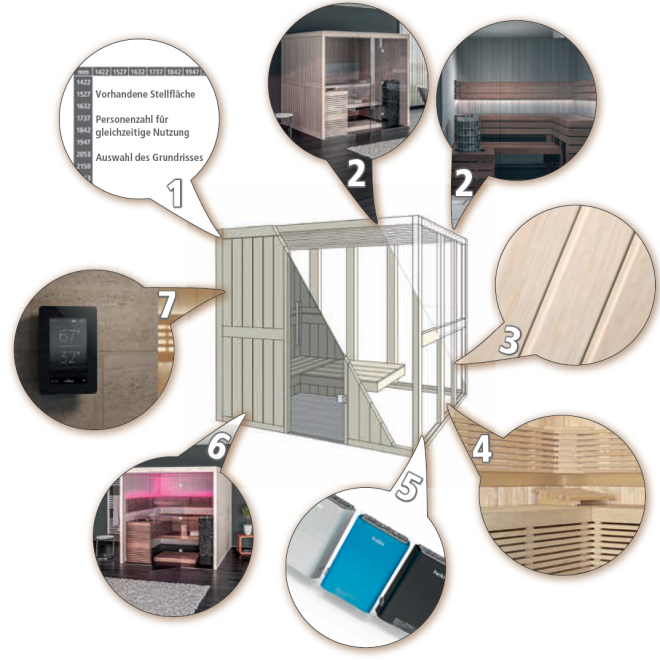 Floor plan
How much space do you have, how many people should use the sauna together? Choose the right sauna size from our numerous floor plans! 
Element or solid wood
The solid wood sauna stands for gentle reflective heat from the logs, the element sauna for direct heat and quicker heating of the cabin.
Wood choice and wood color
The choice of wood has a decisive effect on the appearance of your sauna. Nordic spruce with knots.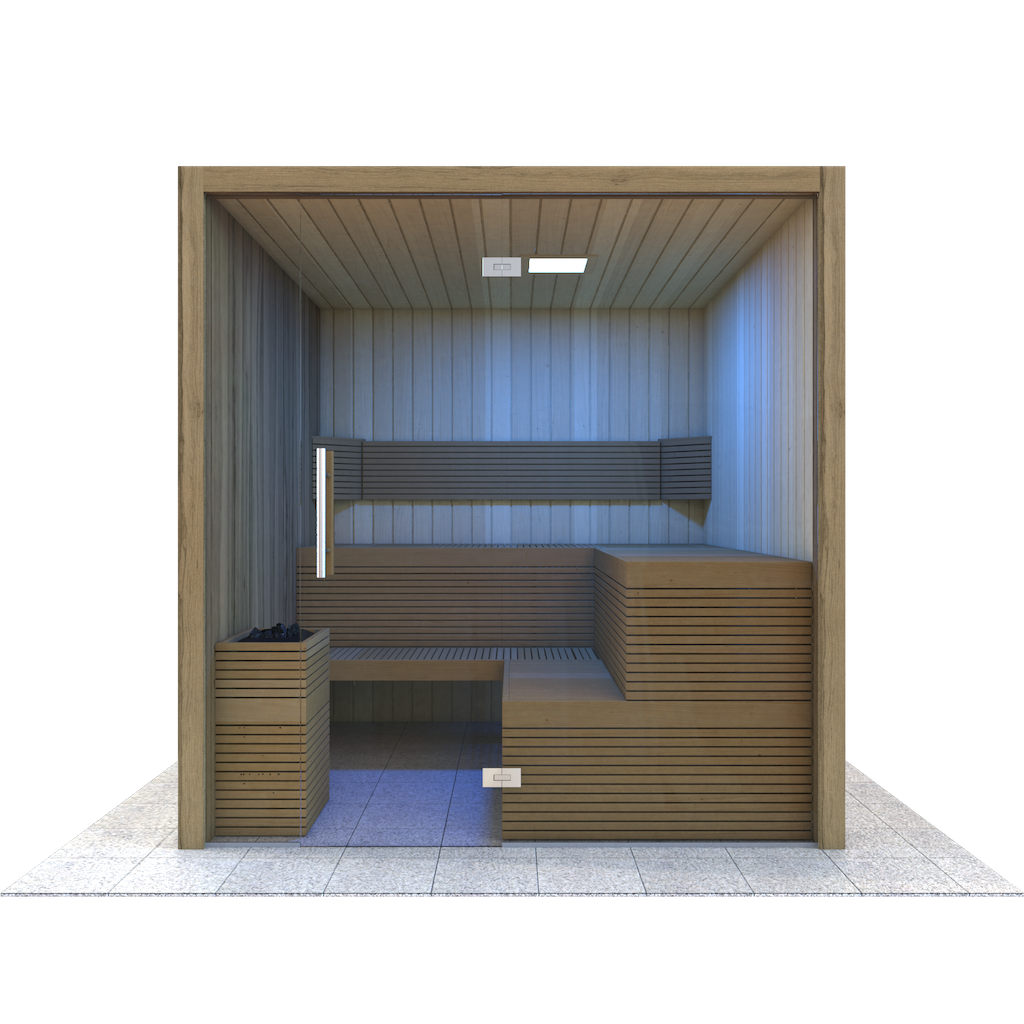 For rustic, light aspen is elegant, dark thermo aspen exudes security and silver fir emphasizes modern design.
 How to make a bed.
 When it comes to interior design, you can choose between classic club and modern Tanami furnishings.
We offer each interior in different woods.
Sauna heaters for your sauna What type of sauna are you? Whether you want to enjoy the traditional hot and dry sauna or, in addition, the comfort of bio and flex sauna, our powerful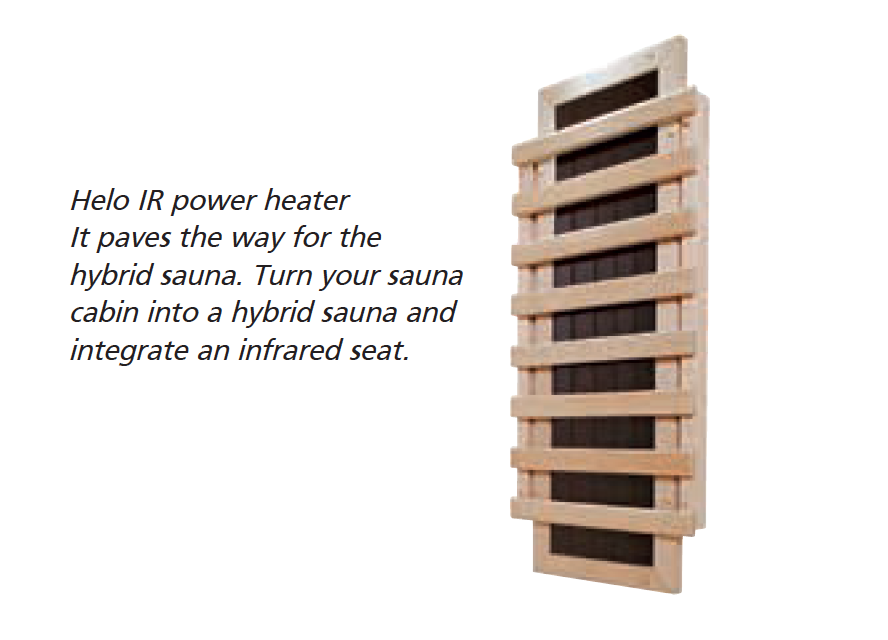 Helo sauna heaters can be completely adapted to your needs.
 Would you like a little more?Take advantage of our numerous options to adapt your sauna exactly to your wishes. From the 2/3 glass front to the all-glass front, LED colored light, windows, salt walls or infrared seating – you decide.
 Classic sauna control or smart sauna with digital control via smartphone? Each of our modern digital sauna controls from the extensive Helo range meets all comfort requirements.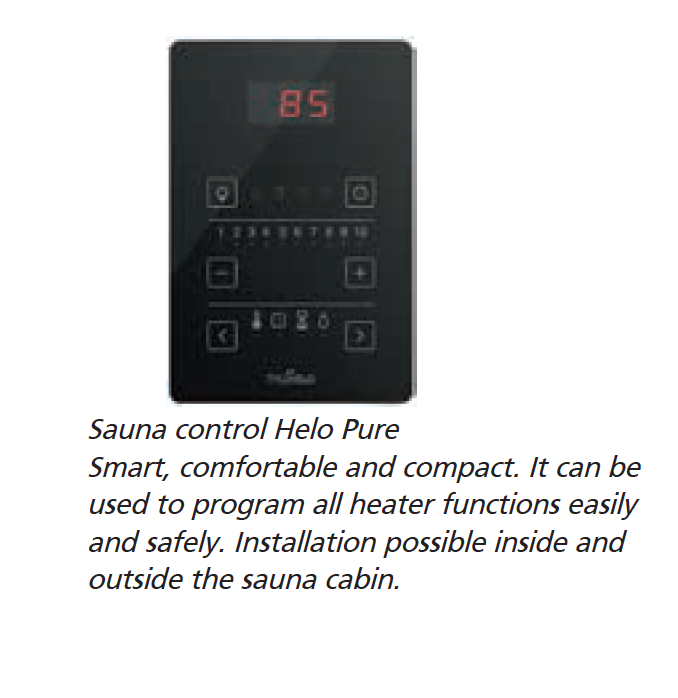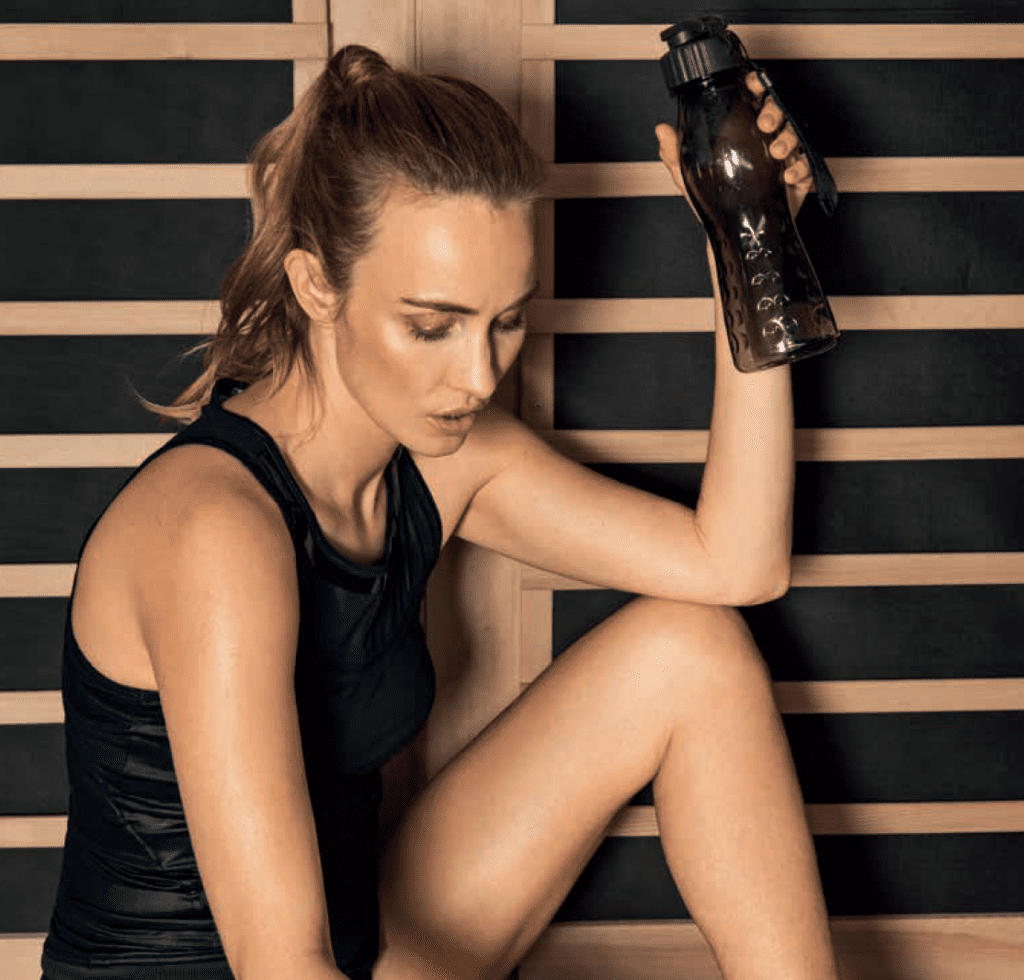 Feel-good warmth INFRARED – mild relaxation. Healthy infrared heating systems for every sauna cabin. The sauna bath today is not just sweating at high temperatures in a sauna cabin. Rather, the modern sauna bath at home offers an individual warmth experience, tailored to your personal needs and wishes. The modern Helo sauna heaters with the comfortable bio water function offer soft sauna baths with lower temperatures and increased humidity of up to 50%. Additional infrared radiant heaters also enable warm baths with gentle deep heat that only put minimal stress on the cardiovascular system. Various infrared systems are ideal additional equipment for infrared applications.
There are good reasons to equip an existing sauna with additional infrared technology. Because infrared bathing is body-friendly and a relaxing way to detoxify and reduce pain and stress. In addition, it is also time-friendly because you don't have to wait for the cabin to heat up. The infrared heat works immediately. Even with daily use, infrared technology uses less power than many other household appliances. Therefore, infrared is also environmentally friendly. And last but not least, infrared heat is particularly family-friendly, as infrared saunas are equally safe and easy to use for children and adults. Young and old are delighted by the mild infrared heat. So infra-red technology is an excellent investment in your family's health.
One of the most important decisions that you have to make when configuring your new sauna cabin is the choice of sauna wood. This decision will be asked of you twice: which type of wood you choose for the sauna walls and ceiling and which type of wood do you prefer for the interior fittings, sauna loungers, backrests, intermediate bench cladding and protective grilles. The choice of wood for the sauna walls and ceiling has a decisive influence on the design and the external effect of your sauna. In addition, it should be robust and the humidity of infusions should not affect it. The design factor is also important when it comes to wood for interior fittings. After all, you and your family want to use the sauna often and with pleasure. When it comes to wood for interior decoration, the focus is also on criteria such as absolute freedom from splinters, a pleasant feel and low thermal conductivity. Because loungers and seats should be pleasantly warm, but not too hot. Our overview below gives you further information on the types of wood most commonly used in our sauna cabins.
The flexible sauna solution.
Design your CLUB individually according to your wishes. 
The CLUB's convincing sauna concept will inspire you even in the standard equipment with its flexibility and generous feeling of space.
With its numerous different floor plans, which are available with both front and corner entry, it fits perfectly into any bathroom and room ambience. Design the element sauna, which is manufactured with high precision craftsmanship, thanks to the wide range of attractive additional options to your personal dream sauna, in which you and your family will enjoy many relaxing hours.